Lenten Sermon Series: Is this Love?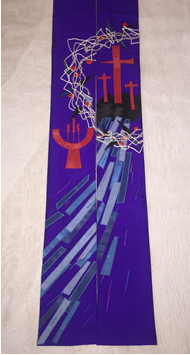 This year Ash Wednesday and St. Valentine's Day had a date.
The season of Lent begins with love and ends in love on Easter Day.
But what do we mean when we talk about love?
Is there a difference between God's love and human love?
Is it possible to separate one from the other?
On six Sundays throughout Lent we will approach different biblical texts with these and more questions in mind, wondering, as Bob Marley did in his song, "Is this Love?"
Sunday Morning Service 10.30am
Lent 1           
18th February: Strong and Stable Love (Rev. Ute Jaeger-Fleming)
Lent 2           
25th February: Love and Promise (Moira Taylor-Smith (Candidate))
Lent 3    
4th March: Table Turning Love (Rev. Suzie Stark, St. Columba's Hospice Chaplain)
Lent 4           
11th March: Releasing Love

Lent 5           
18th March: Love and Creativity (Graeme Trotter, Worship Convener, with Worship Team)
Lent 6   
25th March: Crowd Following Love (Paul Mitchell, Joint Session Clerk, with Team of Elders)