Led by Rev. Bob Gemmell
Welcome
Call to worship
God the maker, Jesus the storyteller, Holy Spirit of life.
In Advent we cry to you, God of justice, Jesus of Bethlehem, Holy Spirit of hope.
In Advent we long for you. You, God, are our love, our warmth, our light.
Hymn 476 – Mine eyes have seen the glory of the coming of the Lord. Listen here.
Prayer
Almighty and eternal God, for all creation we praise you; for the mind-bending curves of space and time, and for the simplicity of a blade of grass; for your care and correction through Covenant and Law and through priest and through prophet.
We praise you for your love now which prepares the way for us today and helps us to see you more clearly.
Merciful God, we praise you for your love shown to us in Jesus and we rejoice in his coming to share our life; we give thanks for his redeeming death, and cling to the hope offered by his resurrection.
We praise you for the example of Jesus and that his living, dying and rising prepare the way for us to come into your presence and learn to love you more dearly.
Mighty God, we praise you for your coming to us in the Holy Spirit: uniting us in fellowship, inspiring our worship, guiding our lives and preparing the way for us so that we may follow you more nearly day by day.
Advent God, we come this morning responding to your call. You used the most unlikely people in the preparation for your kingdom. A peasant girl became the mother of our Lord and a simple family nurtured him. Encourage us as we remember their obedience and the obedience of others across the centuries. Be with us, Immanuel: the God who comes close. Hear our prayers, through Jesus Christ our Lord, in whose name we further pray using the words he taught his disciples, saying:
Our Father which art in heaven, hallowed be thy name; thy kingdom come; thy will be done; in earth as it is in heaven. Give us this day our daily bread. And forgive us our debts as we forgive our debtors. And lead us not into temptation; but deliver us from evil. For thine is the kingdom, the power and the glory, for ever. Amen
(Taken and adapted from Seasons and Celebrations by Donald Hilton.)
Children's talk by Mo Brand
12 sleeps to go!
If you have the privilege of knowing the countdown in sleeps it's perhaps because you have some younger people to count down with.
By now in Advent things are getting quite exciting. Most people know how many days left of school, or work, they have left; some older students or family members are returning home; even though this year is set to be very, very different, plans are well underway for Christmas bubbles, Zoom calls, drive-past and doorstep visits – everyone is really making sure that it's still an amazing time of year.
But this year, also more than ever, helps us think about what's really important. Some people only really see certain family members at Christmas and this isn't necessarily because they don't want to at other times but because it's the one time of year that many people can stop, travel and get together. A time of year where we slow down and spend more time visiting family and friends. So when we think about how different Christmas will be, even our Kidz@Wardie aren't thinking about logistics of getting presents but about the family and friends that they will miss celebrating with in the ways they're used to.
So, what's the challenge for us? Well, it's not just about managing those logistics of how to see people or send presents, and it's not just about accepting humbly for some that they will be alone on Christmas. Our challenge is JOY.
The angels made a big announcement on the first Christmas, calling Jesus' birth 'good news' that would bring 'great joy'.
Everything we do to get ready for Christmas can fill us with joy about Jesus. And that's our challenge to still share in the joy of Christmas – if you're debating putting up decorations just for yourself, do it. If your decorations are up, then pop something special in the window for passers-by, maybe a nativity picture or a star? Show that the joy of Christmas is still good news today. What I'm saying is that we need to be like angels: joyful from the inside out and sharing the good news – after all, there's only 12 sleeps to go!
Advent Candle lighting
Our first candle is for Hope.
The light of hope shines in the darkness and the darkness has never put it out.
We light this candle for hope.
Our second candle is for Peace.
The light of peace shines on through troubles, a light to guide, to focus and a light for all.
We light this candle for peace
The third candle is for Joy.
The light of Joy shines far, just like the angels bringing good news, the light of joy is a light to share, a light to pass on.
We light this candle for Joy.
Scripture Readings
Isaiah 40: 1–11 (NRSV)
Comfort, O comfort my people,
says your God.
Speak tenderly to Jerusalem,
and cry to her
that she has served her term,
that her penalty is paid,
that she was received from the Lord's hand
double for all her sins.
A voice cries out,
'In the wilderness prepare the way of the Lord,
make straight in the desert a highway for our God.
Every valley shall be lifted up,
and every mountain and hill be made low;
the uneven ground shall become level,
and the rough places a plain.
Then the glory of the Lord shall be revealed,
and all people shall see it together,
for the mouth of the Lord has spoken.'
A voice says, 'Cry out!'
And I said, 'What shall I cry?'
All people are grass,
their constancy is like the flower of the field.
The grass withers, the flower fades,
when the breath of the Lord blows upon it;
surely the people are grass.
The grass withers, the flower fades;
but the word of our God will stand for ever.
Get you up to a high mountain,
O Zion, herald of good tidings;
lift up your voice with strength,
O Jerusalem, herald of good tidings;
lift it up, do not fear;
say to the cities of Judah,
'Here is your God!'
See, the Lord God comes with might,
and his arm rules for him;
his reward is with him,
and his recompense before him.
He will feed his flock like a shepherd;
he will gather the lambs in his arms,
and carry them in his bosom,
and gently lead the mother sheep.
Matthew 24: 36–44 (NRSV)
'But about that day and hour no one knows, neither the angels of heaven, nor the Son, but only the Father. For as the days of Noah were, so will be the coming of the Son of Man. For as in those days before the flood they were eating and drinking, marrying and giving in marriage, until the day Noah entered the ark, and they knew nothing until the flood came and swept them all away, so too will be the coming of the Son of Man. Then two will be in the field; one will be taken and one will be left. Two women will be grinding meal together; one will be taken and one will be left. Keep awake therefore, for you do not know on what day your Lord is coming. But understand this: if the owner of the house had known in what part of the night the thief was coming, he would have stayed awake and would not have let his house be broken into. Therefore you also must be ready, for the Son of Man is coming at an unexpected hour.'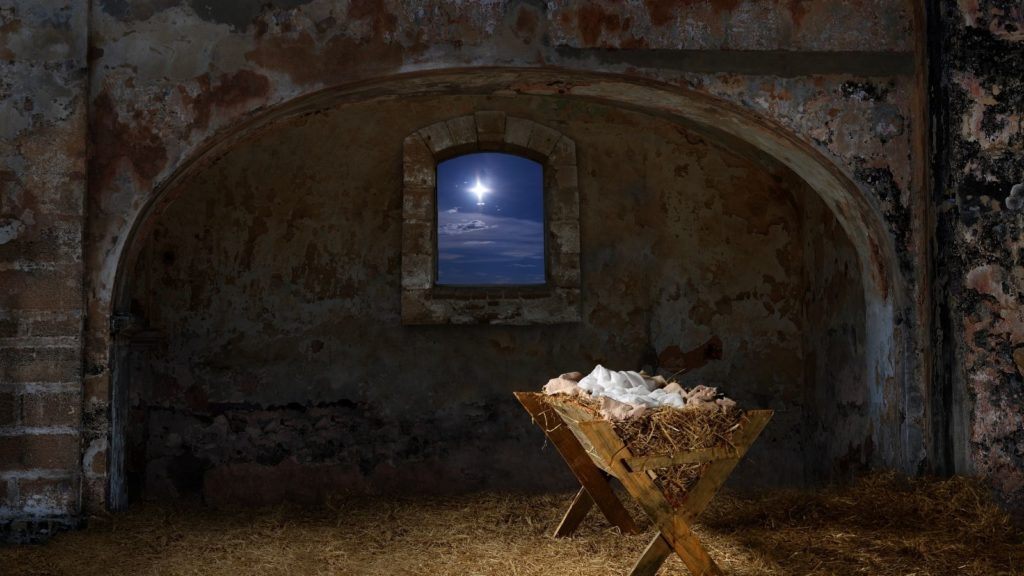 Reflection by Rev. Bob Gemmell: Constant preparedness
The period of Advent is a period of anticipation for us as we wait once again to celebrate both the coming of the child born in the manger and to look to the eventual coming in glory of our Lord at the end of time. It also presents us with the opportunity for reflection, when like Mary we allow ourselves time and space to ponder particular spiritual issues in our minds and in our hearts – the Word becoming flesh and dwelling among us – our response to such an act of love and compassion. Advent is also a time for preparation and it is on that theme I want to dwell for a few minutes this morning.
It all began with a word of hope in the prophecy of Isaiah: "Prepare in the wilderness a road for our Lord! Clear the way in the desert for our God! Fill every valley; level every mountain. The hills will become a plain and the rough country will be made smooth. Then the glory of the Lord will be revealed and all mankind will see it. The Lord himself has promised this."
And then we find Matthew in his Gospel linking the ministry of John the Baptist with the fulfilment of that Old Testament prophecy: John was the man the prophet Isaiah was talking about and John said: "I baptise you with water to show that you have repented, but the one who comes after me will baptise you with the Holy Spirit and with fire. He is much greater than I am; and I am not good enough even to carry his sandals."
Isaiah looked forward with hope to the coming of a king and to the preparation necessary before that advent. Matthew saw in John the one designated to prepare the way for the fulfilment of that coming, his being the preparatory voice crying in the wilderness.
Advent is often referred to as the time when we make our own preparations before the moment of celebration on Christmas Eve and Christmas morning, when we once again welcome the coming of the child to the manger, and marvel at the Word becoming flesh and dwelling in our midst. But at a practical level, how do we do that?
For me there are two aspects within the process of preparation. On the one hand I can prepare myself for something that I know will happen.
I started preparing this sermon last Monday morning, knowing that unless unforeseen circumstances intervened, I would be doing what I am actually doing right now – I would be delivering it this morning. Preparing for something in the knowledge that it will happen, knowing when it will happen and where it will take place.
On the other hand, Advent is also a period when we anticipate the coming again of our King in all his glory at the end of time. How should we prepare ourselves for such an event? What form should that preparation take? We don't know when that will be, and we don't know what it will look like.
On different occasions during his ministry Jesus made reference to the coming of the Son of Man in all his glory. One such example is found in Matthew 24, where Jesus says: "No one knows when that day and hour will come. At that time two men will be working in a field: one will be taken away, and the other will be left behind. Two women will be at a mill grinding meal: one will be taken away, the other will be left behind. Be on your guard, because you do not know what day your Lord will come. So, then, you must always be ready and prepared, because the Son of Man will come at an hour when you are not expecting him."
Looking back over the years I can recall many a sermon I've heard preached on such a passage, sermons used by preachers to almost psychologically frighten their audience into the Kingdom, dangling them over the fires of hell in order to illicit a response from them.
In later years I have come to the conclusion that the important words within that passage are 'be on your guard', 'be ready and prepared'. In other words, when thinking about the coming of the Son of Man we ought to be in a state of constant preparedness. And how does that manifest itself in our day-to-day living?
I suggest it is a process that involves us in proclamation and in service. Proclaiming what we believe to be true concerning the Gospel, being true to ourselves and to our understanding of God's word. Not becoming fanatical zealots but exercising a willingness to explain our faith and our standing when opportunities arise, testifying as to what we believe when an inquisitive mind seeks us out.
The second aspect is service. The next chapter of Matthew's Gospel gives us a very important clue as far as service is concerned. Jesus is still speaking and he says: "I was hungry and you fed me, thirsty and you gave me a drink, I was a stranger and you welcomed me into your homes, naked and you clothed me, I was sick and you took care of me, in prison and you visited me."
The righteous asked, when did all of this happen? Back came our Lord's reply: "I tell you, whenever you did this for the least important of these brothers of mine, you did it for me." These are powerful words and we do well to take them seriously, because Jesus also said that when we fail to do any of these acts of service for the least in society we fail to do them for him.
Be on your guard, be ready and prepared. In fact, be in a state of constant preparedness – be ready to speak about the deep and meaningful things of the faith and be ready to feed the hungry and exercise a ministry of positive Christian caring – even, or perhaps especially, to the seemingly least deserving.
Christmas and our celebration of Christmas may very well be different this year. But I am sure that it will be just as important and our celebration just as real and meaningful despite the restrictions placed on us. Let us approach the season in a state of constant preparedness.
One of the things that I knew I would miss most when I came out of the ministry and went back into social work was having the joy of conducting services around the Advent and Christmas periods. However, over the last few years through my involvement at Queensferry and Dalmeny Kirk, and now this year here at Wardie, things have changed for the better as far as I am concerned.
I have always loved the Christmas period and I have always loved the opportunity of singing many of the Christmas hymns and carols. One in particular has always stood out for me from my earliest days – the Scottish carol 'Child in the manger'. It was written, originally in the Gaelic, by Mary Macdonald. As I said, I have always loved the hymn but it has become even more precious to me over the past decade because of my link with the wee Baptist Church at Bunessan on the Isle of Mull where Mary was at one time a member and where her memory is held in very high esteem. On my last visit to the church there before it closed, even though it was July I still chose Mary's hymn as part of our worship. Most of us sang it in English, a few in the Gaelic. And although it may not yet be Christmas I have chosen it as our closing hymn this morning. It tells the story of the child foretold by the prophets, born of Mary, an outcast and stranger – and yet Lord of all. That's who we prepare to celebrate this and every Christmas, while, at the same time, we anticipate the day when all the world will proclaim him as Lord.
I will not be with you next Sunday so I would like to take this opportunity to wish you all a very happy Christmas and thank you for your support over the past months. Let us look forward to Christmas this year, to the coming of our Saviour and the eventual coming of our King in all his glory.
Prayers of Intercession by John Evans
Lord,
As we look towards a Christmas that none of us were expecting, we ask you to help us to look within ourselves for gifts this Christmas rather than under the tree or in a stocking.
We give thanks for the gifts of skills and knowledge that we can bring to bear to help others in need, isolation or poverty.
We think of the shepherds who arrived in Bethlehem with nothing but brought so much to Mary, Joseph and the Baby Jesus.
And we pray for those in our own communities who bring their own gifts of skills, knowledge, energy and commitment to bear as so many face isolation, poverty and challenges beyond the comprehension of most of us here today.
We give thanks in particular for the work of:
Mary's Meals
People Know How
Home Start
Spartans
The Citadel
The Pilton Charities
Empty Kitchens
The Hibs Community Foundation
Leith Gives
and so many others who are using their inner gifts to bring comfort and some joy to those in need this winter. Don't let us moan about the lack of a material gift or the presence of family or friends, but help us reflect on what we have and how we can help others – this Christmas and into 2021.
Amen
Hymn 314 – Child in the manger. Listen here.
Blessing
God of grace, as we are loved by you, so teach us how to love;
As we are forgiven by you, so help us to forgive;
As we are trusted by you, so lead us to greater trust in you.
As we welcome the coming Christ, so enliven us to reflect the living Christ and become channels of hope to a broken world.
And now the blessing of Almighty God, Father, Son and Holy Spirit, rest and remain with you and with all those whom you love, now and always. Amen