THE LORD IS RISEN! HE IS RISEN INDEED
Service for Easter Sunday, 12th April 2020
Opening prayer
partly from Gathering for Worship, a Baptist Union of Great Britain publication.
 O God our Father, on this Easter morning it is fitting that the heavens should rejoice, that the earth should be glad, and that the whole world, visible and invisible, should join together in praise.
Living God. We worship you today with joy in our hearts and thanksgiving on our lips. When the powers of evil had done their worst, crucifying your Son and burying Him in death, you raised Him to life again, bringing light into the darkness of those early followers, joy replacing their despair.
Lord Jesus. We rejoice that death could not keep you in its grip, that you were raised to life, alive for evermore. On that first Easter morning you greeted your friends, turning their mourning to rejoicing. Today we find ourselves in the midst of a different kind of darkness. Amidst our fear and anxiety come and stand alongside us, encourage us with the promise that you will go ahead of us as we slowly wend our way out of our tunnel of darkness, just as you promised to go ahead and meet with your disciples around the shores of Lake Galilee.
Spirit of God. You are always giving life to the people of God, giving new birth to the children of God. Remould us in the image of Jesus, strengthen us in our weakness, bring peace amidst the turmoil that surrounds us and help us to be faithful to our calling.
O God of peace, who brought again from the dead our Lord Jesus Christ, the great Shepherd of the Sheep, by the blood of the eternal covenant, equip us with every good thing that we may do your will and work in us that which is pleasing in your sight, through Jesus Christ, to whom be glory for ever. Amen
Suggested Hymn – Jesus Christ is risen today, Alleluia. Listen here.
Readings
Mark 16: 1–8 (NRSV)   
When the sabbath was over, Mary Magdelene, and Mary the mother of James, and Salome bought spices, so that they might go and anoint him. And very early on the first day of the week, when the sun had risen, they went to the tomb. They had been saying to one another, "Who will roll away the stone for us from the entrance to the tomb?" When they looked up, they saw that the stone, which was very large, had already been rolled back. As they entered the tomb, they saw a young man, dressed in a white robe, sitting on the right side; and they were alarmed. But he said to them, "Do not be alarmed; you are looking for Jesus of Nazareth, who was crucified. He was raised; he is not here. Look, there is the place they laid him. But go, tell his disciples and Peter that he is going ahead of you to Galilee; there you will see him, just as he told you." So they went out and fled from the tomb, for terror and amazement had seized them; and they said nothing to anyone, for they were afraid.
Luke 24: 13–32 (NRSV)
Now on that same day two of them were going to a village called Emmaus, about seven miles from Jerusalem, and talking with each other about all these things that had happened. While they were talking and discussing, Jesus himself came near and went with them, but their eyes were kept from recognizing him. And he said to them, "What are you discussing with each other while you walk along?" They stood still, looking sad. Then one of them, whose name was Cleopas, answered him, "Are you the only stranger in Jerusalem who does not know the things that have taken place there in these days?" He asked them, "What things?" They replied, "The things about Jesus of Nazareth, who was a prophet mighty in deed and word before God and all the people, and how our chief priests and leaders handed him over to be condemned to death and crucified him. But we had hoped that he was the one to redeem Israel. Yes, and besides all this, it is now the third day since these things took place. Moreover, some women of our group astounded us. They were at the tomb early this morning, and when they did not find his body there, they came back and told us that they had indeed seen a vision of angels who said that he was alive. Some of those who were with us went to the tomb and found it just as the women had said; but they did not see him." Then he said to them, "Oh, how foolish you are, and how slow of heart to believe all that the prophets have declared! Was it not necessary that the Messiah should suffer these things and then enter into his glory?" Then beginning with Moses and all the prophets, he interpreted to them the things about himself in all the scriptures.
As they came near the village to which they were going, he walked ahead as if he were going on. But they urged him strongly, saying, "Stay with us, because it is almost evening and the day is now nearly over." So he went in to stay with them. When he was at the table with them, he took bread, blessed and broke it, and gave it to them. Then their eyes were opened, and they recognized him; and he vanished from their sight. They said to each other, "Were not our hearts burning within us while he was talking to us on the road, while he was opening the scriptures to us?"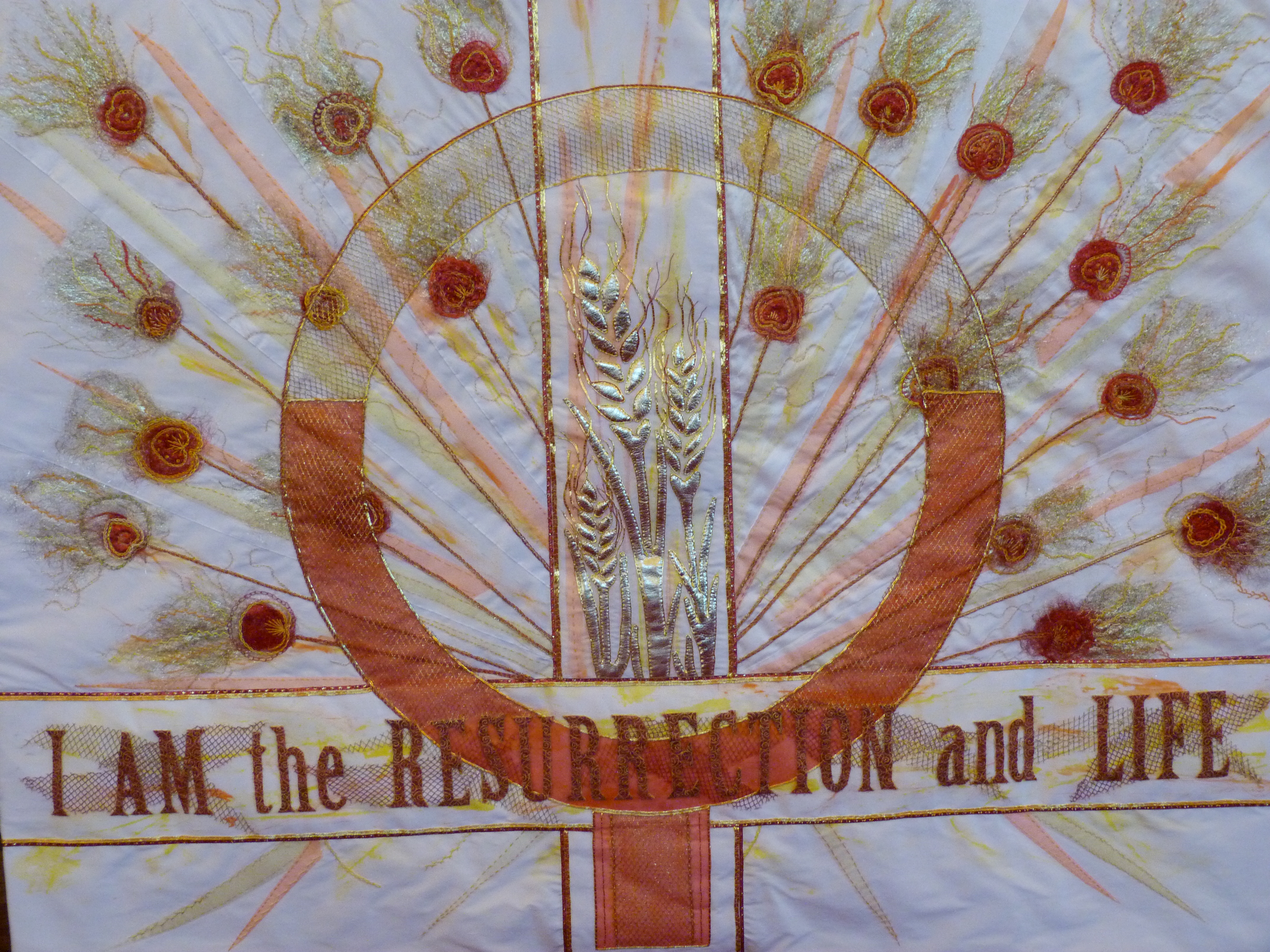 Sermon
The Easter message of hope and love had, and still has, an extraordinary and positive effect on different people's lives for different reasons.
I would like to focus briefly on how the transforming power of the resurrection impacted, first of all, on Peter and secondly on the two travellers who found themselves walking along the road the miles from Jerusalem to Emmaus on the evening of that first Easter day.
What a dark weekend it must have been for all of Jesus' disciples, but in particular for Peter. How his reply to the servant girl in the courtyard of the High Priest must have haunted him in the immediate hours and days, leading no doubt to a couple of sleepless, restless nights.
"I don't know what you are talking about, I don't know the man". These words must have gone round in his head.
Yet it was Peter who in the Upper Room had confidently assured Jesus of his support no matter what the new day might bring. He would die alongside Jesus rather than let him down. He would not stand by and let anything happen to his Lord. Fast forward just a few hours from that declaration of support… "I DON'T KNOW HIM."
I have always been intrigued by a verse from Mark's Gospel in his account of the resurrection. It concerns the message delivered by the "young man wearing the white robe" to Mary Magdalene, Mary the mother of Jesus and Salome. "Don't be alarmed, I know you are looking for Jesus of Nazareth… He is not here, he has been raised… Now go and give this message to his disciples, INCLUDING Peter. 'He is going to Galilee ahead of you, there you will see him'."
I don't think we are reading too much into the narrative to suggest that Peter was singled out for very good reason. For me, one of the hallmarks that I always associate with Jesus was his sensitivity, his awareness of how people were feeling.
Yes I am sure that the heart of Jesus must have been dealt a bitter blow through Peter's denial. But I am certain that our Lord was very much aware of the effect that the denial eventually had on Peter. So we find our Lord leaving the door open for Peter to return from the darkness of his night, a door that Peter entered, and in doing so found forgiveness and eventually a commission that would see him playing a pivotal role in the establishing of the early church.
The Easter message of hope and love had an extraordinary and positive effect on Peter.
And that message of forgiveness, of the open door, of a fresh start, a new commission, is one that is just as relevant for us today as it was to Peter and the other disciples 2000 years ago.
The message of hope and love had also quite an impact on two of Jesus' followers as they wended their way from Jerusalem to Emmaus that Sunday evening.
To say that the couple had been devastated as a result of all that had happened to Jesus would not in any way be understating their feelings. As they made their homeward journey, a stranger joined them. The stranger enquired as to the topic of their conversation. Cleopas answered, "Are you the only visitor in Jerusalem who doesn't know the things that have been happening there?" As they continued to travel the road and the miles the couple began to unburden themselves, sharing their disappointment, their grief, and also their confusion after hearing the account from women within their group telling them that they had seen angels and that their Lord was alive.
The stranger's response was to point them to the prophetic message concerning the Messiah to be found within the Scriptures. With the shades of evening drawing nigh the couple invited the stranger to stay with them and share a meal together.
And later, at table, the stranger takes the bread and thanks the Father and he breaks it – THAT VOICE – THOSE WOUNDED HANDS. "Then their eyes were opened and they recognised him, but he disappeared from their sight."
Two particular points have always stood out for me from this narrative. The words that the couple shared with each other as they recalled all that had happened on the road, "Wasn't it like a fire burning in us when he talked to us on the road and explained the Scriptures to us". And secondly, the fact that it was in the breaking of bread, and in the sharing of the meal, that the stranger became a stranger no more, but the risen Christ.
I am sure that we can all relate to these two issues. What about – as we walk our own Emmaus road? In our walking of the road and the miles with our risen Lord, haven't there been times when we too have been inspired, and felt our hearts on fire, through the encouragement and challenge of the words that we have been reading?
And how often have we risen from our celebration of the Lord's Supper having been acutely aware of the presence of the risen Lord in our midst?
The Easter message for Peter, for the two travellers on the Emmaus Road, for the other disciples, for men and women across the centuries, for you and for me, is one of hope and love. For them the dark days of Holy Week were over, a new dawn had come. At this particular time we probably feel that our dark days of separation and isolation are still very much with us and the darkest days may still be to come. But keep your eyes looking up lest you miss the first faint light of dawn. It always comes. May the blessing of the risen Lord be with you and with all whom you love, now and always.
Rev. Bob Gemmell
THE LORD IS RISEN. HE IS RISEN INDEED.
Suggested Hymn – Thine be the glory. Listen here.
Prayer of Intercession
We celebrate and pray for the witness of Your church throughout the world, in all its colour, diversity and difference.
Lord, we bring to You the suffering of the world. These are uncharted times, unforeseen and challenging, and it is comforting to know that you are present to touch every aching heart.
We are most mindful of those affected by an unseen virus but we do not forget those broken or damaged by life events: by hardships, injury, unkindness or abuse. Be with them, Lord.
We pray for all who work in caring professions: for the services which seek to soothe and heal the sicknesses of body, mind or spirit. Our admiration for all of these people at this time is undiminished.
We give thanks for people of peace, co-pilgrims of all faiths, spiritual leaders across myriad cultures, for all who worship in temple, mosque, synagogue and church, for all who make that journey inwardly, for all who seek renewal, rebirth and the miracle of inner resurrection.
Eternal God, bless our country, our Queen, political leaders at Westminster and Holyrood; guide all who shape our common life.
We pray for our Sister congregations across our own country and beyond as they continue to be a strong Christian presence in changing times. May the message of hope that Easter brings be brightly and thoughtfully transmitted.
May we play our part in helping to build a future, a society, in which the stranger is welcomed, the vulnerable are valued and protected, human rights are honoured, and creation itself nurtured.
Present in every darkness, may the Risen Christ burn brightly, bringing light, renewal and new life, this Easter Day and evermore.
Amen
Blessing